Incredible Opportunity to Acquire and Develop BeachScape, the Westernmost Condominium Site in Panama City Beach
Team Baranowski of Keller Williams Realty Emerald Coast is pleased to present a unique opportunity to acquire BeachScape, a premium Gulf front condominium site located in Panama City Beach, FL. The last condos to be built were Palazzo, Tropic Winds and Ocean Reef in 2008. Condo resale inventories are on the decline and many developments are beginning to show their age. Buyers prefer new construction, but even the newest condo developments are becoming sorely outdated. BeachScape will appeal to buyers looking for new inventory in an updated and contemporary development.
The 2.8+/- acre site includes 1.65+/- acres on the beach side of Front Beach Rd for the condominium tower and amenities, plus 1.16+/- acres north of Front Beach Rd designed and approved for a 5-story, 351-space parking garage with an elevated walkway leading to the condominiums. Ideally located on the west end of Panama City Beach near Pier Park, BeachScape will be the newest, westernmost condominium on Panama City Beach. The previous owner/developer invested approximately $11 million in engineering costs, full architectural plans, utilities to the site, support pilings, foundation, and ground level plumbing.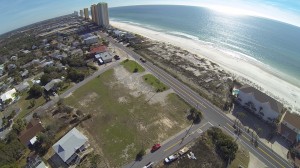 BeachScape, the westernmost Gulf front condominium site currently available on Panama City Beach, is engineered and permitted for a 22-story residential condominium tower with a total of 234 units, and a 5-story, 351-space parking garage with elevated walkway to the condominium. Full entitlements include Florida State Development Order Extension until October 5, 2015 for 234 units. There is also a Panama City Beach Development Order Extension until February 2018 for 187 units under Ordinance 1276 of th Panama City Beach Land Development Code.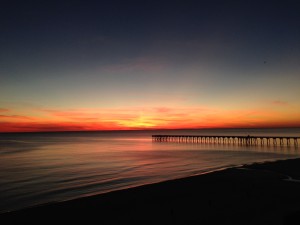 Panama City Beach, FL was recently ranked #1 by Business Facilities Magazine on their list of "Top 10 Metro Growth Potential" for small population metropolitan areas (under 200,000). The offered beachfront site is located in one of the best positioned areas of Panama City Beach, in the desirable West End area near Pier Park, Panama City Beach's most popular shopping center and entertainment hub. Panama City and Panama City Beach have been forecasted to be at the forefront of the next building cycle. For additional information on the economic conditions of Bay County, Florida including Panama City Beach, visit www.bayeda.com.
Fill out the form below to request the BeachScape Offering Memorandum.
Please call Craig @ 850.259.1788 for more information on this rare opportunity!